Today, I won an
Astroglide
Gift Basket via @Toywithme for my huge enthusiasm about what exactly IF I had a penis for a day!! How AWESOME is that?? Thank you
Toy With Me
, and Astroglide!! WOOHOO. I shall report back like a good little blogger to let you all know how the lubes hold up against my insatiable sexual appetite.
I was also posted again on
Boob Emancipation
!!! OH YEAH. They just
couldn't resist
posting a picture of me again. I know, right?? My ta-tas are just THAT juicy and delicious. Ohh, yeah. I make myself smile.
I also went to Bellingham today and saw my sister. She is doing well in her new place with her roommates. I wish her the best of luck!! While there, I walked around town with my sister and my mom, and we looked at shops. The Sister showed me an AWESOME huge record store, which had almost everything you could imagine there that I like! So I bought myself a Prefab Sprout CD (From Langley Park to Memphis) and PJ Harvey's Is This Desire? They are FABU. I adore Prefab Sprout, they are full of Teh Awesome. And I figured I'd like to have a PJ Harvey CD for myself, so...why not?
While wandering around in an empty alley way I also found some amazing graffiti by the back door of some club place that Teh Sister likes to go to. I will post pictures...cause they are just THAT awesomesauce.
I mean, Jesus on a freakin T-Rex? Really???!! HAHA!!!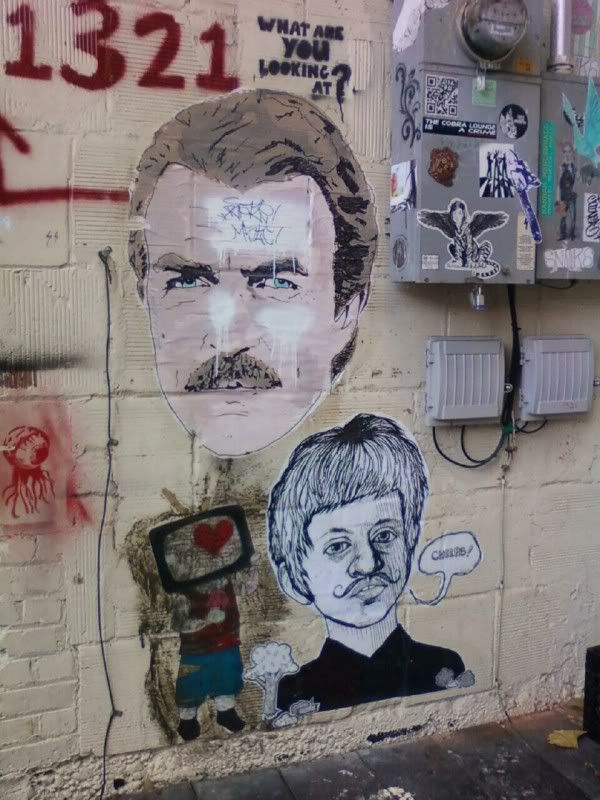 SUPER COOL, right?? I love Bellingham.